With all of the different steeds available in LOTRO, I thought I would highlight some of them here. The first featured steed is my personal favorite out of my collection, the Treasure Laden Steed.
The Treasure Laden Steed is a special mount that was only available during the Treasure Hunt Event. To get this steed, you had to be fortunate enough to find it in a dig spot while hunting for treasure.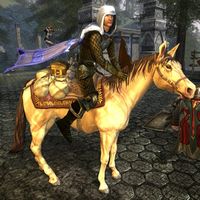 The Treasure Laden Steed (from lotro-wiki.com)
According to its status bar, this pure white horse is named Gold. The horse's back is laden with treasure chest full of gold, and as it runs, a stream of coins trails behind. It is also 2% faster than steeds normally available in the game.